Posted by guinever in : birth, breastfeeding, Christmas, family, homebirth, homeschooling, pregnancy , comments closed
Need to get a gift for a little person who is expecting a new sibling? Or maybe you need a book that is just simply delightful?  I've compiled a list of my favorite books where there is a new baby or baby is on the way. All have wonderful illustrations and tell a story. (Many books in this category read like a text book or a self-help book, or the pictures are boring or too cartoonish and just aren't pretty.) All of these books are on our bookshelf (except for the last one that I need to order) and they're worn out from reading them so much.  Enjoy!
Waiting for Baby by Harriet Ziefert and illustrated by Emily Bolam. I love the center of this book because the pages are flaps, so you can see what Max did each day, all in a row. As you turn each flap, the pages get bigger. This is a great design for a book. My favorite is what Max did on Wednesday. He banged on his drum and marched around and chanted:
Rum, tum, tum ba-by come! Rum, tum tum ba-by come! Rum-a-tee, Rum-a-tee, Rum-a-tee-tum!
We have read this over and over at the end of my pregnancies and my kids have marched around just like Max and shouted at my tummy for baby to come out.
_________________________
Baby, Come Out!
by Fran Manushkin and illustrated by Ronald Himler. This is a sweet book with delightful drawings that tells the story of how baby doesn't want to come out because she likes it just where she is, all safe and warm in her Mama. Each family member has his or own way of trying to coax baby to be born. Finally, baby comes out when her daddy gives everyone a kiss. She wants a kiss too. I especially like the drawings in this because it shows baby in Mama's tummy. I think it helps young children visualize that there really is a baby in there!
_________________________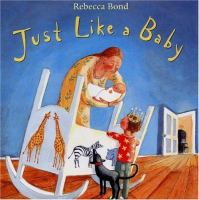 In just Just Like a Baby

, by Rebecca Bond, Father makes a cradle and then the other family members all add something to the cradle–Grandfather painted it, Grandmother sewed a quilt, brother made a mobile. Finally, mother pushed the cradle to the window and felt it was ready for baby:
There next to the windows, Mother rocked the cradle gently back and forth
She ran her fingers over the smooth, sanded wood…
She turned down the warm quilt
She watched the mobile slowly turn…
And she felt the baby move inside her.
_________________________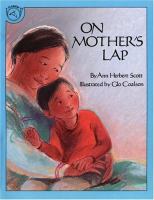 On Mother's Lap
, by Ann Herbert Scott and illustrated by Glo Coalson. Mom reads Michael a story who brings more and more things on his mother's lap as they sit together in the rocking chair. Eventually, his baby sister wakes up, and when Mom goes to get the baby, Michael is upset because he doesn't think there's enough room. But of course there is always more room on mother's lap.
I love reading this book with the kids, rocking back and forth, back and forth–just like in the book.
_________________________
We Like to Nurse, by Chia Martin and illustrated by Shukyo Rainey is a book that is especially good for toddlers and preschoolers because of the brightly painted pictures and simple text. Each page shows a different animal nursing its young. The last page with a mother nursing her baby, reads, "We like to nurse."
_________________________________
The Biggest Bed in the World
, by Lyndsey Camp, and illustrated by Jonathon Langley. This is such a fun book. When there's a baby in his bed, dad says, "How am I supposed to sleep like this?" The family keeps on growing with the addition of twins and triplets until Dad finally has to make the biggest bed in the world. He even has to knock down walls so the bed will fit in the house. When the kids all move to their own beds, Dad thinks his bed is too empty, and still he wonders, "How am I supposed to sleep like this?" I love the way nursing is drawn in this story.
_________________________________
Welcome With Love
, by Jenni Overend and illustrated by Julie Vivas. I love this book! This is the perfect book to help prepare children who might be attending the birth because it shows the mom in several different labor positions with her husband. The midwife and other children are in the illustrations as well. This is a little different than other children's book because it actually shows the birth. Don't worry. There's no blood and gore and raunchy shots, but it beautifully depicts what homebirth is all about. Mom gives birth standing up, leaning on her husband. You see baby's head coming out from her. Next, the mom is kneeling, scooping her baby up to her with the cord still attached. My favorite drawing is the scene after the birth from overhead which shows the dad holding the placenta in the bowl; he had just cut the cord. Baby is tucked in bed beside mom, surrounded by the three other children. My favorite quote:
A little boy, Mum says, crying and smiling at the same time. She holds him close against her breast. Dad tucks the blanket around them. He's crying too.
_____________________________
The Berenstain Bears' New Baby
, by Stan and Jan Berenstain. Cute little book. Brother bear has outgrown his bed so he and Dad go out into the woods to build a new one. When they get home, there's a new baby sister in brother's old bed.
_______________________________
Dancing Waters, by Tara Tulley and illustrated by KC Clark "tenderly tells the story of a family who chooses a doula and waterbirth in a hospital setting" Also available by the same author and illustrator is Stars of the Sky where a mother tells her twins about their homebirth.
Dale, a childbirth educator, says,
It looks like it's a feast for the eyes as well as the heart and soul.
I have not seen these books for myself, but they look delightful. You can find them here.
If you know of another book that might fit my list, please let me know by leaving a comment.
Go to my list of recommended pregnancy books.
Posted by guinever in : birth, doula, health, labor, midwifery, pregnancy , comments closed
So you're pregnant, and you think you might want to have a natural birth. Having helped many women have natural births in my role as a doula and having birthed 5 babies naturally myself, I'd like to offer what I feel are a few of the most important things to do in order to achieve a drug-free birth.
1. Going natural is a mindset. Make the commitment during pregnancy that drugs are not an option for labor. Believe that you can do it, and you will. If you have the feeling that you'd like to try it to see how it goes, but you're open to getting an epidural, I guarantee you that you will have the epidural. Labor is hard work and to get through it, you can't be wishy washy going into it. One medical intervention leads to another.
2. Surround yourself with friends and family who believe that you can have a natural birth, who assume that you can do it. Tune out the negative birth stories that some girlfriends might tell you about how awful labor was until the epidural took effect. Instead, seek out labor stories from women who have had natural birth and you'll hear how awesome the birth was, how the baby latched on right away, how the nurses kept making comments that the baby was so alert. You'll hear how proud her husband was, what a great help to her he was during labor, and that the birth was an empowering, amazing experience.
3. Take a private, independent childbirth class. (in other words, don't take the birthing classes offered by the hospital.) If this isn't possible, prepare yourself by reading several pregnancy books and learning labor coping techniques. Consider my list of recommended books.
4. Choose your doctor or midwife carefully. If you don't know where to start looking for a care provider, ask your local childbirth educators and doulas for ideas. Ask lots of questions in your first few pre-natal visits so there aren't any surprises later on. Be wary when the answer is always, "I only do that when its medically necessary." You need to ask them, "How often do you feel its medically necessary?" (to do inductions, planned cesareans, episiotomies, etc) You want to find someone with a low induction, low cesarean, low episiotomy (and low tear) rate. Don't be afraid to switch doctors or hospitals no matter how late it is in your pregnancy. Remember, it is your birth, and you are hiring them to work for you. There should be a mutual respect.
5. During labor, just take one contraction at a time. Don't worry about the length of labor–how long it has been or how much longer it might be. Women talk about their long labors, but remember, its not as if they were in constant pain for 18 hours. Contractions only last for about a minute (longer during later labor) and you get breaks in between. Don't let anyone tell you that your body isn't working if your labor slows down. That is just the body's way of giving you a rest. Be thankful for the break because labor will pick up soon enough.
6. Stay home as long as possible once labor starts. Nothing slows down labor as much as going to the hospital too soon.
7. Don't be induced unless medically necessary. About half of all inductions done on first time mothers result in cesarean birth. This is because inductions are done too soon, before mom and baby are ready for labor.  Read think twice, no think three times before being induced for labor.
8. Consider hiring a doula. Read what is a doula and should I have one?
9. Consider having a homebirth or going to a birth center. It's so much easier to have a natural birth when you're not in the hospital.
10. Read birth stories. Learn from the mistakes and successes of others. Be inspired from women's birth stories. Here are a few to get you started:
Birth is a natural process and women have been birthing babies for thousands of years. You can do it too. During labor, as long as you are doing alright and baby is alright, there's no reason to intervene in the process if you don't want to.
Please refer to my welcome page for more articles on labor and birth.
Posted by guinever in : birth, birth story, epidural, health, labor, pregnancy , comments closed
I like to show this list to pregnant women so they have a chance to consider the side effects of an epidural before they're actually in labor and wanting one. When a woman is in labor and overwhelmed with pain, she is not going to care about this list, not going to read it, she'll just scribble her name on the dotted line and yell,
I don't care! Just stick the needle in my back.
BUT if she reads this while still pregnant, long before labor begins, she'll have time to consider the side effects and say,
You know what, I don't want an epidural. I don't have to get the epidural.
These reasons are taken from the release form that a woman must sign before getting an epidural (I got this form from a local hospital.) It is titled, "Authorization for the administration of epidural/spinal analgesia for pain relief in labor and delivery."
The epidural/spinal may not work and give partial relief (1 in 10).
Dural puncture headache (1 in 40)
Backache and/or leg pain (1 in 50)
Significant decreases in blood pressure (1 in 50)
Total spinal anesthesia ( 1 in 500)
Toxic reaction (1 in 500) This may include a seizure, cardiac or respiratory arrest, or rarely, the possibility of death.
Massive epidural/ spinal anesthesia (1 in 1000)
Transient paralysis or nerve damage (1 in 1000)
Permanent paralysis or nerve damage (1 in 5000). Other rare complications include infection, loss of epidural catheter in the epidural space, fetal distress, bleeding, or infection at the skin, subcutaneous tissue epidural or subarachnoid spaces, and possible death.
I also realized that during the course of my labor, my labor may either speed up, stop, or slow down, which may make it necessary to have forceps or Cesarean delivery. As this may occur during the course of any labor patient, either with or without epidural/spinal analgesia, it is difficult to determine whether or not epidural/spinal analgesia has a bearing on these outcomes. But in any once patient, this may occur as a result of epidural/spinal analgesia.
You may be asking, but how can I get through labor? How can I handle the pain? The answer is preparation. Read all you can. Consider this list of books. Take an independent childbirth class (not associated with a hospital or doctor's office). Read the birth stories below so you can be inspired and gain the confidence to birth your baby.
For an in-depth look at the effect of epidurals, read this medical paper.