Posted by guinever in : babies, birth, birth stories, birth story, doula, epidural, health, homebirth, homeschooling, kentucky, labor, midwifery, pregnancy , 1 comment so far
Birthing with Guinever is now on facebook. I'll be posting the latest pregnancy related research, the best pregnancy blog posts from around the web and products that every pregnant woman should know about, breastfeeding info.
Posted by guinever in : birth, breastfeeding, Christmas, family, homebirth, homeschooling, pregnancy , 2comments
Need to get a gift for a little person who is expecting a new sibling? Or maybe you need a book that is just simply delightful?  I've compiled a list of my favorite books where there is a new baby or baby is on the way. All have wonderful illustrations and tell a story. (Many books in this category read like a text book or a self-help book, or the pictures are boring or too cartoonish and just aren't pretty.) All of these books are on our bookshelf (except for the last one that I need to order) and they're worn out from reading them so much.  Enjoy!
Waiting for Baby by Harriet Ziefert and illustrated by Emily Bolam. I love the center of this book because the pages are flaps, so you can see what Max did each day, all in a row. As you turn each flap, the pages get bigger. This is a great design for a book. My favorite is what Max did on Wednesday. He banged on his drum and marched around and chanted:
Rum, tum, tum ba-by come! Rum, tum tum ba-by come! Rum-a-tee, Rum-a-tee, Rum-a-tee-tum!
We have read this over and over at the end of my pregnancies and my kids have marched around just like Max and shouted at my tummy for baby to come out.
_________________________
Baby, Come Out!
by Fran Manushkin and illustrated by Ronald Himler. This is a sweet book with delightful drawings that tells the story of how baby doesn't want to come out because she likes it just where she is, all safe and warm in her Mama. Each family member has his or own way of trying to coax baby to be born. Finally, baby comes out when her daddy gives everyone a kiss. She wants a kiss too. I especially like the drawings in this because it shows baby in Mama's tummy. I think it helps young children visualize that there really is a baby in there!
_________________________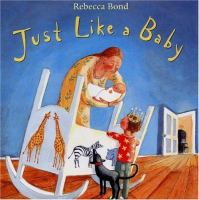 In just Just Like a Baby

, by Rebecca Bond, Father makes a cradle and then the other family members all add something to the cradle–Grandfather painted it, Grandmother sewed a quilt, brother made a mobile. Finally, mother pushed the cradle to the window and felt it was ready for baby:
There next to the windows, Mother rocked the cradle gently back and forth
She ran her fingers over the smooth, sanded wood…
She turned down the warm quilt
She watched the mobile slowly turn…
And she felt the baby move inside her.
_________________________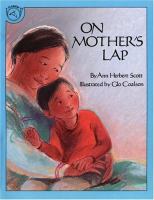 On Mother's Lap
, by Ann Herbert Scott and illustrated by Glo Coalson. Mom reads Michael a story who brings more and more things on his mother's lap as they sit together in the rocking chair. Eventually, his baby sister wakes up, and when Mom goes to get the baby, Michael is upset because he doesn't think there's enough room. But of course there is always more room on mother's lap.
I love reading this book with the kids, rocking back and forth, back and forth–just like in the book.
_________________________
We Like to Nurse, by Chia Martin and illustrated by Shukyo Rainey is a book that is especially good for toddlers and preschoolers because of the brightly painted pictures and simple text. Each page shows a different animal nursing its young. The last page with a mother nursing her baby, reads, "We like to nurse."
_________________________________
The Biggest Bed in the World
, by Lyndsey Camp, and illustrated by Jonathon Langley. This is such a fun book. When there's a baby in his bed, dad says, "How am I supposed to sleep like this?" The family keeps on growing with the addition of twins and triplets until Dad finally has to make the biggest bed in the world. He even has to knock down walls so the bed will fit in the house. When the kids all move to their own beds, Dad thinks his bed is too empty, and still he wonders, "How am I supposed to sleep like this?" I love the way nursing is drawn in this story.
_________________________________
Welcome With Love
, by Jenni Overend and illustrated by Julie Vivas. I love this book! This is the perfect book to help prepare children who might be attending the birth because it shows the mom in several different labor positions with her husband. The midwife and other children are in the illustrations as well. This is a little different than other children's book because it actually shows the birth. Don't worry. There's no blood and gore and raunchy shots, but it beautifully depicts what homebirth is all about. Mom gives birth standing up, leaning on her husband. You see baby's head coming out from her. Next, the mom is kneeling, scooping her baby up to her with the cord still attached. My favorite drawing is the scene after the birth from overhead which shows the dad holding the placenta in the bowl; he had just cut the cord. Baby is tucked in bed beside mom, surrounded by the three other children. My favorite quote:
A little boy, Mum says, crying and smiling at the same time. She holds him close against her breast. Dad tucks the blanket around them. He's crying too.
_____________________________
The Berenstain Bears' New Baby
, by Stan and Jan Berenstain. Cute little book. Brother bear has outgrown his bed so he and Dad go out into the woods to build a new one. When they get home, there's a new baby sister in brother's old bed.
_______________________________
Dancing Waters, by Tara Tulley and illustrated by KC Clark "tenderly tells the story of a family who chooses a doula and waterbirth in a hospital setting" Also available by the same author and illustrator is Stars of the Sky where a mother tells her twins about their homebirth.
Dale, a childbirth educator, says,
It looks like it's a feast for the eyes as well as the heart and soul.
I have not seen these books for myself, but they look delightful. You can find them here.
If you know of another book that might fit my list, please let me know by leaving a comment.
Go to my list of recommended pregnancy books.
Posted by guinever in : birth, doula, homebirth, midwifery, pregnancy , 1 comment so far
If you want to read one woman's chronicle of all her birth experiences from hospital to home,   including the heartache of miscarriage, check out relevant living.
That birth, as fast and furious as it was, was one of the most incredible experiences of my life. I got to go into labor, labor however I wanted, in whatever position was the most comfortable, and deliver my baby without strangers poking, prodding and forcing or coercing me into taking drugs that weren't necessary.
Birth talk explains how a woman communicates non-verbally during labor and how you can read her cues and help her through labor.
One mother writes detailed notes about Ina May's Guide to Childbirth

which just so happens to be my personal favorite pregnancy book.
Here's a conversation about inductions among obstetricians as reported by a certified nurse midwife . The OBs  were complaining about possibly working at 2 in the morning.
Not even once did the welfare of the mom and/or baby enter into the discussion.
On a similar vein,  nurses know that some OBs are cesarean happy.
The well-rounded mama is looking to write about fears during pregnancy.
Things like……how will I ever fit behind a steering wheel in my car at 9 months pregnant? Will my car's seat belt go over my belly?
Kathy posted a video with 4D ultrasound images that show a baby's growth in the womb.
Posted by guinever in : birth, birth stories, birth story, home birth, homebirth, midwifery, pregnancy , 1 comment so far
After having an "accidental" homebirth for her second baby, Sarah and her husband decided to plan a homebirth for their third baby. This is Sarah's birth story:
I've heard many times that third babies are unpredictable. My first two had come right before their due dates, and within four hours. I expected this one to be a week late, missing the whole definition of unpredicta
ble. Nothing quite prepared me for the experience of Sabrina's birth.
Our due date was December twenty-first. Sabrina had already begun to drop in November. By the beginning of December I was having some painful Braxton Hicks fairly often. We speculated a possible early delivery. I tried not to get my hopes up.
just some pre-labor
Thursday December thirteenth, I felt particularly sick. The nausea was just awful, and I was having contractions every eight minutes. When I went to the bathroom that morning I noticed a lot of bloody show. I was so excited I called my husband Chris at work and interrupted his meeting to tell him he needed to be ready to run if I called again. I spent that entire day waiting for the contractions to pick up. They never did. By that night I was in tears. After a good cry I fell asleep.
We both woke up around five-thirty the next morning, the fourteenth. I began to time the contractions that hadn't stopped all night and they were four minutes apart. I was stumped. I'd experienced so many false alarms with this baby, and my last one, that I just didn't know what to think. I hated the idea of having my midwife drive an hour to our house for labor that wasn't really going anywhere.
Chris decided he didn't want to be alone if this baby came as quickly as our last one, and called our midwife. My contractions picked up as we waited for her to arrive. I still couldn't bring myself to believe this was it.
3 centimeters dilated
She arrived and quickly checked me, only to find that I was three centimeters dilated and fifty percent effaced. She told me to try sleeping and she would check me again in an hour. I couldn't sleep a wink. My head was whirling. Chris however, was sawing logs in a matter of minutes. After an hour I had not progressed at all. We decided to stop the labor by "knocking me out", so I could get some sleep. I took two Tylenol PM and slept for three hours. When I woke up the contractions were back to eight minutes apart. The boys were awake and doing their thing, running wild and making messes. I timed contractions for awhile and then began to clean… again. Chris knew I was truly agitated when I began washing dishes. I hate washing dishes.
I called my mom to let her know what was going on. She suggested I take zinc to speed the labor. She'd done it when I was born and said it worked. So I took two zinc, and sat down to rest. I decided that I had all weekend to have this baby so I was just going to chill out and try to stay positive. This was around five 0'clock. At five-thirty I had eaten half my sandwich, and suddenly felt so nauseated I couldn't finish it. I decided to lie down. My contractions were three minutes apart. I was still not sure if this was really it.
Chris made a quick call to the midwife again and our friend Maryellen to come over and watch the boys. I got up to walk and refused to lie down again because I didn't want the contractions to stop. I became very determined to make this baby come if it took all night. I was even massaging my abdomen because it made my uterus contract.
My midwife arrived again around six-thirty and began setting up. It was fascinating to watch her. She was so organized. In just a little while she had all her tools laid out on a cookie sheet and new sheets on our bed covered by plastic and another sheet with disposable pads on top of that. We were set to go.
enjoying labor
The three of us talked in between contractions. We shared stories, swapped jokes, and quoted comedians. Bill Cosby's account of his wife's first birth had me cracking up when a really big contraction hit and I leaned against Chris who was sitting on the bed in front of me. He was pretty tired too, and rested his head on my belly. It actually helped with the pain!!! For the next several contractions that was our stance. I rested my hands on his shoulders as he pressed his head against my belly while giving me a hug and rubbing my back. I know we probably looked silly, but I certainly didn't care.
Around a quarter to nine I told my midwife that I was really confused. I'd never had a labor last so long, and the contractions were so strong. She thought that perhaps Sabrina had turned posterior, and that was slowing things down. I asked her to check my progress, and she said I was seven centimeters. The baby wasn't posterior, but she did notice some scar tissue on my cervix. We assumed it was from Clark's speedy entrance into this world three years ago. I was so tired that she asked if I wanted her to break the water to speed things up. I said, "Yes" without hesitation.
breaking the water
She began trying to break it with her fingernails but it wouldn't budge. We started to chuckle at its strength. She tried again, but could only pull on it. By that time we were in hysterics. Chris didn't get the joke so much, so I told him the bag was so strong it wouldn't break, and it felt like she was pulling a water balloon out of my vagina. It took her several attempts with an amniohook , but it did finally break. It wasn't until that moment that I accepted the fact that I was going to have a baby that day.
I got up to go to the restroom, and had three powerful contractions in a matter of a few minutes. "Wow", I thought, "Transition already?" I got back to my room and sat on the side of the bed. The contractions came so fast and so strong I couldn't quite think straight. Suddenly I was pushing. Chris and the midwife were making a last attempt at prepping the pool that our son had poked a hole in days earlier. We had planned a water birth, but it was not to be. Chris quickly sat down in front of me to help me breath through the contractions. When asked if I was pushing, I kind of whimpered, "Yeah."
"it's a head"
My midwife put her gloves on. I stood up and leaned against Chris so she could change the wet pad underneath me, and out came Sabrina's head. Chris said,"There's something down there.", and I screamed, "It's a head!" to which my midwife calmly replied, "Well so it is." She placed her hand on Sabrina's head, and it was a good thing too, because the very next second her body just shot out. She said, "Grab your baby!", and we did. I held her arm, and Chris held the rest of her. Somehow I ended up lying back on the bed with Sabrina on my chest. Judah and Clark hovered over us, fascinated by their new little sister. My midwife still had a glove half on, just flopping all over the place.
That was my first bare handed catch, she said and we all laughed.
I noticed the cute little birth mark on Sabrina's chest, and her blonde hair. She was so beautiful. Suddenly, as in every birth, I forgot all about the nausea, headaches and exhaustion. For such a miserable pregnancy it ended so perfectly. My labor was long, emotional, and tiring, but it was also sweet, and casual; even fun at times. I loved the way I laughed my way through it. "This is how babies should be born." I thought, quietly and casually with laughter and tears.
Chris dressed Sabrina while I bathed. When I came back to the bedroom, Judah was holding her with the biggest grin on his face. We all crawled into bed for a family picture. We were so glad our baby girl was finally here. Our family felt complete.