Posted by guinever in : babies, birth, birth stories, doula, family, homeschooling, pregnancy , comments closed
Posted by guinever in : birth, breastfeeding, Christmas, family, homebirth, homeschooling, pregnancy , comments closed
Need to get a gift for a little person who is expecting a new sibling? Or maybe you need a book that is just simply delightful?  I've compiled a list of my favorite books where there is a new baby or baby is on the way. All have wonderful illustrations and tell a story. (Many books in this category read like a text book or a self-help book, or the pictures are boring or too cartoonish and just aren't pretty.) All of these books are on our bookshelf (except for the last one that I need to order) and they're worn out from reading them so much.  Enjoy!
Waiting for Baby by Harriet Ziefert and illustrated by Emily Bolam. I love the center of this book because the pages are flaps, so you can see what Max did each day, all in a row. As you turn each flap, the pages get bigger. This is a great design for a book. My favorite is what Max did on Wednesday. He banged on his drum and marched around and chanted:
Rum, tum, tum ba-by come! Rum, tum tum ba-by come! Rum-a-tee, Rum-a-tee, Rum-a-tee-tum!
We have read this over and over at the end of my pregnancies and my kids have marched around just like Max and shouted at my tummy for baby to come out.
_________________________
Baby, Come Out!
by Fran Manushkin and illustrated by Ronald Himler. This is a sweet book with delightful drawings that tells the story of how baby doesn't want to come out because she likes it just where she is, all safe and warm in her Mama. Each family member has his or own way of trying to coax baby to be born. Finally, baby comes out when her daddy gives everyone a kiss. She wants a kiss too. I especially like the drawings in this because it shows baby in Mama's tummy. I think it helps young children visualize that there really is a baby in there!
_________________________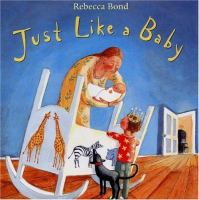 In just Just Like a Baby

, by Rebecca Bond, Father makes a cradle and then the other family members all add something to the cradle–Grandfather painted it, Grandmother sewed a quilt, brother made a mobile. Finally, mother pushed the cradle to the window and felt it was ready for baby:
There next to the windows, Mother rocked the cradle gently back and forth
She ran her fingers over the smooth, sanded wood…
She turned down the warm quilt
She watched the mobile slowly turn…
And she felt the baby move inside her.
_________________________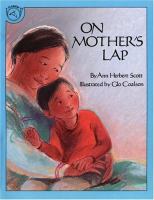 On Mother's Lap
, by Ann Herbert Scott and illustrated by Glo Coalson. Mom reads Michael a story who brings more and more things on his mother's lap as they sit together in the rocking chair. Eventually, his baby sister wakes up, and when Mom goes to get the baby, Michael is upset because he doesn't think there's enough room. But of course there is always more room on mother's lap.
I love reading this book with the kids, rocking back and forth, back and forth–just like in the book.
_________________________
We Like to Nurse, by Chia Martin and illustrated by Shukyo Rainey is a book that is especially good for toddlers and preschoolers because of the brightly painted pictures and simple text. Each page shows a different animal nursing its young. The last page with a mother nursing her baby, reads, "We like to nurse."
_________________________________
The Biggest Bed in the World
, by Lyndsey Camp, and illustrated by Jonathon Langley. This is such a fun book. When there's a baby in his bed, dad says, "How am I supposed to sleep like this?" The family keeps on growing with the addition of twins and triplets until Dad finally has to make the biggest bed in the world. He even has to knock down walls so the bed will fit in the house. When the kids all move to their own beds, Dad thinks his bed is too empty, and still he wonders, "How am I supposed to sleep like this?" I love the way nursing is drawn in this story.
_________________________________
Welcome With Love
, by Jenni Overend and illustrated by Julie Vivas. I love this book! This is the perfect book to help prepare children who might be attending the birth because it shows the mom in several different labor positions with her husband. The midwife and other children are in the illustrations as well. This is a little different than other children's book because it actually shows the birth. Don't worry. There's no blood and gore and raunchy shots, but it beautifully depicts what homebirth is all about. Mom gives birth standing up, leaning on her husband. You see baby's head coming out from her. Next, the mom is kneeling, scooping her baby up to her with the cord still attached. My favorite drawing is the scene after the birth from overhead which shows the dad holding the placenta in the bowl; he had just cut the cord. Baby is tucked in bed beside mom, surrounded by the three other children. My favorite quote:
A little boy, Mum says, crying and smiling at the same time. She holds him close against her breast. Dad tucks the blanket around them. He's crying too.
_____________________________
The Berenstain Bears' New Baby
, by Stan and Jan Berenstain. Cute little book. Brother bear has outgrown his bed so he and Dad go out into the woods to build a new one. When they get home, there's a new baby sister in brother's old bed.
_______________________________
Dancing Waters, by Tara Tulley and illustrated by KC Clark "tenderly tells the story of a family who chooses a doula and waterbirth in a hospital setting" Also available by the same author and illustrator is Stars of the Sky where a mother tells her twins about their homebirth.
Dale, a childbirth educator, says,
It looks like it's a feast for the eyes as well as the heart and soul.
I have not seen these books for myself, but they look delightful. You can find them here.
If you know of another book that might fit my list, please let me know by leaving a comment.
Go to my list of recommended pregnancy books.
Posted by guinever in : babies, family , comments closed
Reading all about "kangaroo care" while I was pregnant, I knew I wanted to continue to carry my baby close after birth.  I wasn't really familiar with baby carriers and there wasn't the vast selection 10 years ago as is there is today.  So I used a sling which was ok and helped to distribute the baby's weight, but I still needed to always have one hand on baby to feel safe.
When I took my training to become a childbirth instructor,  several of the women had  wraps like the one pictured to the left.  I ordered one and used it for my next baby. I loved it and still do.  Pictured here is a baby carry scarf from carry me close. These 14 foot long Guatemalan scarves are hand woven cotton, and are truly beautiful.
Made from similar fabric but utilizing rings is the maya wrap. There are many styles and fabrics to choose from. Their website includes instructions and a video. Plus maya sells slings for your little girls to use with their dolls.
When I had my fourth baby, a friend gave me a moby wrap which I loved even more because it was longer and made of a stretchier material plus they're also a little longer so you can wrap it once more than is shown here for extra security. I love my moby! Check here for instructions on the many different ways to wear your baby with a moby. Also on the website is a demonstration video.
I love this step-by-step front wrap tutorial in pictures done by a homeschooling blogging mother of many!
If you'd rather not tie the carrier yourself, but prefer one with structure that you just buckle onto yourself and then slide baby into, the Ergo is an excellent choice that is ergonomically designed so you won't get an aching back.
Ideally, the best thing to do is to go to a store and try on some baby carriers to see which ones you like best or you can browse the carriers available in the slideshow below.
Posted by guinever in : doula, family, health, home birth, homebirth, midwifery, pregnancy , comments closed
Here's what Ron Paul said at a political rally in Greenville, North Carolina when asked about licensing midwives:
But if you can allow it with licensing, that's slightly better, [than prohibition] the ideal is that people make up their own minds. I am not in favor of government prohibiting people from making private choices. I may have a medical opinion–well, you shouldn't do this or you shouldn't do that, but politically, people should make their own choices.
So you're in favor of families having the option to choose.
Oh yes, definitely, said Ron Paul.
To watch and listen to this short video at a rally in Greenville, South Carolina, go to the clip at YouTube. What I have quoted above appears at the end of this video.
Posted by guinever in : birth stories, birth story, doula, family, health, home birth, homebirth, homeschooling, midwifery , comments closed
I am looking for more birth stories for my website. Since I have only birthed five children, I am limited in the number I have to offer, so I'm asking for yours. I will be choosy in the birth stories that I publish. This is a natural birth website. This fact doesn't rule out births where drugs and surgery were involved if you were well-informed during your pregnancy and labor and made decisions accordingly.
What I'm looking for: It doesn't matter where you gave birth– home, birth center or hospital. Things to include would be what you did during pregnancy to prepare yourself for a natural birth, what techniques helped during labor and what things didn't. If you chose medical intervention, tell me why and how it helped you (or not.) I'm looking for birth stories that will inspire other women to birth naturally. Keep it positive and upbeat.
I'm also looking for HBAC and VBAC stories. If you don't know what that is, then it doesn't apply to you. In other words, I want to hear about your journey to vaginal birth after surgical birth.
What I'm not looking for: standard induction, epidural hospital births. There are plenty of other places on the web who publish those. I don't want to hear about how painful or unbearable your labor was until you got the drugs.
Do not include the name of your hospital, doctor or midwife
Guidelines for submission: Use a spell checker. Have someone else read it for grammar and clarity of thought. I don't have time to do a lot of editing. Do not type in all caps. There is no word limit. It can be as long as you want provided that everything you include adds to the story and isn't redundant. Absolutely no swearing or crass language will be accepted. Common birth language like "vagina" is perfectly fine when used appropriately.
I do not want to publish your story if it already appears on the web somewhere else. But if you think it would be a good fit for my website, I will include excerpts from it and then link to it.
You should probably explore this site including the birth stories to see if you want your birth story included here.
How to submit: You can cut and paste your story into the comment section at the bottom of this article and it will be sent to me via e-mail (it will not appear on the website here). If accepted, it will be posted on this site in a separate article and be listed with other birth stories.
I look forward to reading your birth story.