Posted by guinever in : birth, breastfeeding, Christmas, family, homebirth, homeschooling, pregnancy , 2comments
Need to get a gift for a little person who is expecting a new sibling? Or maybe you need a book that is just simply delightful?  I've compiled a list of my favorite books where there is a new baby or baby is on the way. All have wonderful illustrations and tell a story. (Many books in this category read like a text book or a self-help book, or the pictures are boring or too cartoonish and just aren't pretty.) All of these books are on our bookshelf (except for the last one that I need to order) and they're worn out from reading them so much.  Enjoy!
Waiting for Baby by Harriet Ziefert and illustrated by Emily Bolam. I love the center of this book because the pages are flaps, so you can see what Max did each day, all in a row. As you turn each flap, the pages get bigger. This is a great design for a book. My favorite is what Max did on Wednesday. He banged on his drum and marched around and chanted:
Rum, tum, tum ba-by come! Rum, tum tum ba-by come! Rum-a-tee, Rum-a-tee, Rum-a-tee-tum!
We have read this over and over at the end of my pregnancies and my kids have marched around just like Max and shouted at my tummy for baby to come out.
_________________________
Baby, Come Out!
by Fran Manushkin and illustrated by Ronald Himler. This is a sweet book with delightful drawings that tells the story of how baby doesn't want to come out because she likes it just where she is, all safe and warm in her Mama. Each family member has his or own way of trying to coax baby to be born. Finally, baby comes out when her daddy gives everyone a kiss. She wants a kiss too. I especially like the drawings in this because it shows baby in Mama's tummy. I think it helps young children visualize that there really is a baby in there!
_________________________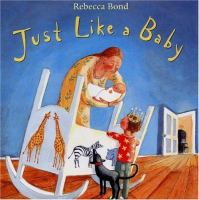 In just Just Like a Baby

, by Rebecca Bond, Father makes a cradle and then the other family members all add something to the cradle–Grandfather painted it, Grandmother sewed a quilt, brother made a mobile. Finally, mother pushed the cradle to the window and felt it was ready for baby:
There next to the windows, Mother rocked the cradle gently back and forth
She ran her fingers over the smooth, sanded wood…
She turned down the warm quilt
She watched the mobile slowly turn…
And she felt the baby move inside her.
_________________________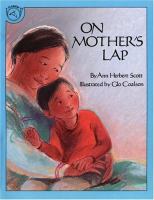 On Mother's Lap
, by Ann Herbert Scott and illustrated by Glo Coalson. Mom reads Michael a story who brings more and more things on his mother's lap as they sit together in the rocking chair. Eventually, his baby sister wakes up, and when Mom goes to get the baby, Michael is upset because he doesn't think there's enough room. But of course there is always more room on mother's lap.
I love reading this book with the kids, rocking back and forth, back and forth–just like in the book.
_________________________
We Like to Nurse, by Chia Martin and illustrated by Shukyo Rainey is a book that is especially good for toddlers and preschoolers because of the brightly painted pictures and simple text. Each page shows a different animal nursing its young. The last page with a mother nursing her baby, reads, "We like to nurse."
_________________________________
The Biggest Bed in the World
, by Lyndsey Camp, and illustrated by Jonathon Langley. This is such a fun book. When there's a baby in his bed, dad says, "How am I supposed to sleep like this?" The family keeps on growing with the addition of twins and triplets until Dad finally has to make the biggest bed in the world. He even has to knock down walls so the bed will fit in the house. When the kids all move to their own beds, Dad thinks his bed is too empty, and still he wonders, "How am I supposed to sleep like this?" I love the way nursing is drawn in this story.
_________________________________
Welcome With Love
, by Jenni Overend and illustrated by Julie Vivas. I love this book! This is the perfect book to help prepare children who might be attending the birth because it shows the mom in several different labor positions with her husband. The midwife and other children are in the illustrations as well. This is a little different than other children's book because it actually shows the birth. Don't worry. There's no blood and gore and raunchy shots, but it beautifully depicts what homebirth is all about. Mom gives birth standing up, leaning on her husband. You see baby's head coming out from her. Next, the mom is kneeling, scooping her baby up to her with the cord still attached. My favorite drawing is the scene after the birth from overhead which shows the dad holding the placenta in the bowl; he had just cut the cord. Baby is tucked in bed beside mom, surrounded by the three other children. My favorite quote:
A little boy, Mum says, crying and smiling at the same time. She holds him close against her breast. Dad tucks the blanket around them. He's crying too.
_____________________________
The Berenstain Bears' New Baby
, by Stan and Jan Berenstain. Cute little book. Brother bear has outgrown his bed so he and Dad go out into the woods to build a new one. When they get home, there's a new baby sister in brother's old bed.
_______________________________
Dancing Waters, by Tara Tulley and illustrated by KC Clark "tenderly tells the story of a family who chooses a doula and waterbirth in a hospital setting" Also available by the same author and illustrator is Stars of the Sky where a mother tells her twins about their homebirth.
Dale, a childbirth educator, says,
It looks like it's a feast for the eyes as well as the heart and soul.
I have not seen these books for myself, but they look delightful. You can find them here.
If you know of another book that might fit my list, please let me know by leaving a comment.
Go to my list of recommended pregnancy books.
Posted by guinever in : birth, birth stories, birth story, christianity, Christmas, midwifery , 1 comment so far
The woman prepared quickly and quietly in the grassy corner with the goat and four chickens on the dirt floor.
She closed her eyes and opened her mouth.
She and the man had walked for days.
A room? A bed? A blanket?
But the door at the inn closed.
The night was cold.
Warmth flooded over her, under and through her.
The hardness of the work surprised her.
One. Two. Three. Open.
She moaned and gasped for air.
The smell of hay permeated.
Four. Five. Harder. Longer. Closer.
Slipping down down down.
"My back," she cried.
Seconds. Minutes. Hours.
Six. Seven. Quicker and harder.
Women everywhere, sisters commiserate.
Eight. Nine.
Slammed to earth. Ninety seconds.
Breathless
Harder. Closer. Open.
She prayed it would be over.
The moon sprayed light through the hole in the roof.
The man eyed her tossing and moaning beside him.
He was not the baby's father.
Her cries softened under his bearded neck.
She smelled the chickens and threw up.
Ninety-nine seconds.
Harder. Harder. Harder.
Open.
Ten.
Winded and tired, she managed a smile.
The two walked and drank water.
Gently, the man wrapped her in his arms.
He talked of wooden chairs and tree shavings
And she laughed.
"Silence," she said.
Back to work.
On her knees.
One two three push
Harder harder push
Take a breath and push some more
Seconds. Minutes. An hour.
One more. Push.
Arched her back and grunted.
Rim of fire. Wait.
Red.
The baby emerged.
Soft and sticky and warm.
Covered in white cream.
She tasted her child with kisses.
A son.
Her boy.
The Son of the Father.
She wrapped him in her clothes
and called him Immanuel
And silenced his cries with the gift of her milk.