Posted by guinever in : babies, birth, birth stories, birth story, doula, epidural, health, homebirth, homeschooling, kentucky, labor, midwifery, pregnancy , comments closed
Birthing with Guinever is now on facebook. I'll be posting the latest pregnancy related research, the best pregnancy blog posts from around the web and products that every pregnant woman should know about, breastfeeding info.
Posted by guinever in : babies, birth, birth stories, doula, family, homeschooling, pregnancy , comments closed
Posted by guinever in : birth, breastfeeding, Christmas, family, homebirth, homeschooling, pregnancy , comments closed
Need to get a gift for a little person who is expecting a new sibling? Or maybe you need a book that is just simply delightful?  I've compiled a list of my favorite books where there is a new baby or baby is on the way. All have wonderful illustrations and tell a story. (Many books in this category read like a text book or a self-help book, or the pictures are boring or too cartoonish and just aren't pretty.) All of these books are on our bookshelf (except for the last one that I need to order) and they're worn out from reading them so much.  Enjoy!
Waiting for Baby by Harriet Ziefert and illustrated by Emily Bolam. I love the center of this book because the pages are flaps, so you can see what Max did each day, all in a row. As you turn each flap, the pages get bigger. This is a great design for a book. My favorite is what Max did on Wednesday. He banged on his drum and marched around and chanted:
Rum, tum, tum ba-by come! Rum, tum tum ba-by come! Rum-a-tee, Rum-a-tee, Rum-a-tee-tum!
We have read this over and over at the end of my pregnancies and my kids have marched around just like Max and shouted at my tummy for baby to come out.
_________________________
Baby, Come Out!
by Fran Manushkin and illustrated by Ronald Himler. This is a sweet book with delightful drawings that tells the story of how baby doesn't want to come out because she likes it just where she is, all safe and warm in her Mama. Each family member has his or own way of trying to coax baby to be born. Finally, baby comes out when her daddy gives everyone a kiss. She wants a kiss too. I especially like the drawings in this because it shows baby in Mama's tummy. I think it helps young children visualize that there really is a baby in there!
_________________________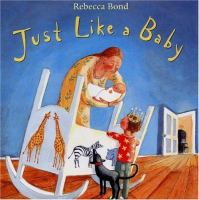 In just Just Like a Baby

, by Rebecca Bond, Father makes a cradle and then the other family members all add something to the cradle–Grandfather painted it, Grandmother sewed a quilt, brother made a mobile. Finally, mother pushed the cradle to the window and felt it was ready for baby:
There next to the windows, Mother rocked the cradle gently back and forth
She ran her fingers over the smooth, sanded wood…
She turned down the warm quilt
She watched the mobile slowly turn…
And she felt the baby move inside her.
_________________________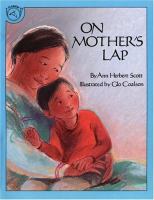 On Mother's Lap
, by Ann Herbert Scott and illustrated by Glo Coalson. Mom reads Michael a story who brings more and more things on his mother's lap as they sit together in the rocking chair. Eventually, his baby sister wakes up, and when Mom goes to get the baby, Michael is upset because he doesn't think there's enough room. But of course there is always more room on mother's lap.
I love reading this book with the kids, rocking back and forth, back and forth–just like in the book.
_________________________
We Like to Nurse, by Chia Martin and illustrated by Shukyo Rainey is a book that is especially good for toddlers and preschoolers because of the brightly painted pictures and simple text. Each page shows a different animal nursing its young. The last page with a mother nursing her baby, reads, "We like to nurse."
_________________________________
The Biggest Bed in the World
, by Lyndsey Camp, and illustrated by Jonathon Langley. This is such a fun book. When there's a baby in his bed, dad says, "How am I supposed to sleep like this?" The family keeps on growing with the addition of twins and triplets until Dad finally has to make the biggest bed in the world. He even has to knock down walls so the bed will fit in the house. When the kids all move to their own beds, Dad thinks his bed is too empty, and still he wonders, "How am I supposed to sleep like this?" I love the way nursing is drawn in this story.
_________________________________
Welcome With Love
, by Jenni Overend and illustrated by Julie Vivas. I love this book! This is the perfect book to help prepare children who might be attending the birth because it shows the mom in several different labor positions with her husband. The midwife and other children are in the illustrations as well. This is a little different than other children's book because it actually shows the birth. Don't worry. There's no blood and gore and raunchy shots, but it beautifully depicts what homebirth is all about. Mom gives birth standing up, leaning on her husband. You see baby's head coming out from her. Next, the mom is kneeling, scooping her baby up to her with the cord still attached. My favorite drawing is the scene after the birth from overhead which shows the dad holding the placenta in the bowl; he had just cut the cord. Baby is tucked in bed beside mom, surrounded by the three other children. My favorite quote:
A little boy, Mum says, crying and smiling at the same time. She holds him close against her breast. Dad tucks the blanket around them. He's crying too.
_____________________________
The Berenstain Bears' New Baby
, by Stan and Jan Berenstain. Cute little book. Brother bear has outgrown his bed so he and Dad go out into the woods to build a new one. When they get home, there's a new baby sister in brother's old bed.
_______________________________
Dancing Waters, by Tara Tulley and illustrated by KC Clark "tenderly tells the story of a family who chooses a doula and waterbirth in a hospital setting" Also available by the same author and illustrator is Stars of the Sky where a mother tells her twins about their homebirth.
Dale, a childbirth educator, says,
It looks like it's a feast for the eyes as well as the heart and soul.
I have not seen these books for myself, but they look delightful. You can find them here.
If you know of another book that might fit my list, please let me know by leaving a comment.
Go to my list of recommended pregnancy books.
Posted by guinever in : birth, labor, pregnancy , comments closed
First time moms all wonder what labor will feel like and ask their friends what does a contraction feel like? How will I know when I'm in labor? Will it hurt?  When do I know when to call my midwife or when to go to the hospital?
Some pregnant women are afraid of the potential pain of labor, afraid of the unknown.  An important thing to remember about these sensations  is that labor is a normal, natural process. This makes it different from any other pain you may experience.   Remember that contractions last anywhere from 15-90 seconds depending on how far along your labor has progressed. Then you have several minutes in between each of your contractions so it's not like you're in constant pain for the duration of your labor and birth.
The best thing to do is just to take one contraction at a time.
what do braxton hicks contractions feel like?
just a little downward pressure
a little twinge near my belly button
menstrual cramps
indigestion
don't really feel them at all
don't hurt, just a little tightening
what do early labor contractions feel like?
all of the above for braxton hicks
a little pain that starts at my belly button then wraps around my hips
all I feel it is in my back, an annoying back ache that comes and goes
it hurts, but not too bad
sometimes takes my breath away
what do active labor contractions feel like?
pretty intense
a pulling at my cervix
intense inward pressure
can feel it all up front
radiates down my hips
my back just kills
a pressure wave and I'm just letting my body open up
like I'm working really hard
my breathing gets really fast and I have to concentrate to keep it under control
what do transition contractions feel like?
overwhelming
very intense
hurts a lot
can feel the contractions in my legs and I start shaking
like someone is twisting my cervix
the contraction starts in my front then gets stronger and more intense and stays like that for a long time before fading away
what do pushing or 2nd stage contractions feel like?
the same as before but now I have to bear down
like I need to poop
can't stop pushing
burning right before the baby is born
what do 3rd and 4th stage contractions feel like?
really bad menstrual cramps
same as active labor contractions
wait a minute, didn't I just have the baby? why am I still contracting like this?
what did your contractions feel like?


Posted by guinever in : birth, labor, pregnancy , comments closed
Pre-labor refers to all the contractions that you have during your pregnancy the last few weeks of your pregnancy before "real" labor starts. These contractions are know as Braxton Hicks contractions. Some women don't ever feel these contractions and that's perfectly normal.
The first stage of labor is the part of labor where contractions  open the cervix allowing your baby to be born. This opening is called dilating or dilation of the cervix. A further explanation of first stage is below.
The second stage of labor is when you feel the urge to push during contractions. When you push, you're bring  bringing the baby down and out so he can be born. The pushing stage can last anywhere from just a couple contractions to over an hour and even more.  You might wonder how long it's ok to push.
The third stage of labor is the time after the baby is born until the placenta releases from your uterus and with a final push, it is expelled.  The placenta usually is born within a half hour after birth, sometimes only a few minutes, but taking an hour or more is still normal as long as you aren't bleeding too much.
The fourth stage of labor is the first couple hours after the placenta is delivered where mom and baby are getting acquainted and the uterus continues to contract so it can shrink. Breastfeeding or just interacting with your baby causes contractions to continue, which is necessary for this involution of the uterus.  Your nurse will rub your uterus and might show you how to do it.  This will hurt, but is necessary to prevent unnecessary bleeding.
first stage of labor is divided into 3 parts
early first stage
Your contractions can be between 30-60 seconds long and can vary from 5 minutes to 20 minutes apart and jump around a little bit til a contraction pattern can be established.  It is generally the part of your labor from 0-4 centimeters dilated. You can read more about how long it takes the cervix to get to 5 cm dilated or what does 2 cm dilated mean?
During early labor, the contractions might make you pause and stop what you're doing, but they're not very intense. It's best to just ignore your labor as long as possible and try not to watch the clock.  You are usually very chatty and running around doing last minute things before baby arrives  in between contractions. It's best to just go about your usual routine which could be staying in bed if labor starts in the middle of the night while your sleeping. As labor progresses, the contractions become longer and stronger and you phase into active labor.  You can read more about early labor in this birth story.
active labor
During active labor, you're no longer chatty. You are quiet in between contractions, getting ready for the next wave. You might start to vocalize or moan during the contractions.  You might go lie down and get comfortable for awhile.  Getting in the tub during this part of labor will help you relax and help labor to progress.
Active labor is the part of labor where medically speaking, you are from 5-8 centimeters dilated. Contractions are at least a minute long and usually fall into a consistent pattern of 3-5 minutes apart, but even this can vary and it's normal to skip a contraction once in awhile.
This part of labor is where you have to concentrate on your contractions to get through them. This is where all your relaxation techniques that you've been working on come into play.  It's where you'll probably ask for the epidural if you don't want to go natural if you haven't already asked for pain meds.
transition
Transition is the part of your labor in between active labor and the pushing stage. It's where your cervix finishes opening up and you become completely dilated so the baby can be born.  For most women, transition is the shortest and most intense part of labor, but not always.
Transition is the part of labor where you have the longest, strongest contractions that are the closest together. Women usually describe transition as overwhelming. Contractions can be 90 seconds long and only 2 minutes apart, meaning you only have about 30 seconds in between them to prepare for the next contraction. This is what can make it the hardest part–there isn't a lot of time to focus and regroup after one contraction ends before the next one begins.
Emotionally, transition is a time of self-doubt and you need verbal encouragement from your husband, nurse, doula or other support person. This is the time where women planning a drug-free free birth wonder why they ever wanted to do that, but these thoughts pass and soon you start pushing.
I hope this has answered your questions about the stages of labor. Feel free to ask a question if something is not clear or browse the website for more pregnancy and birth articles.